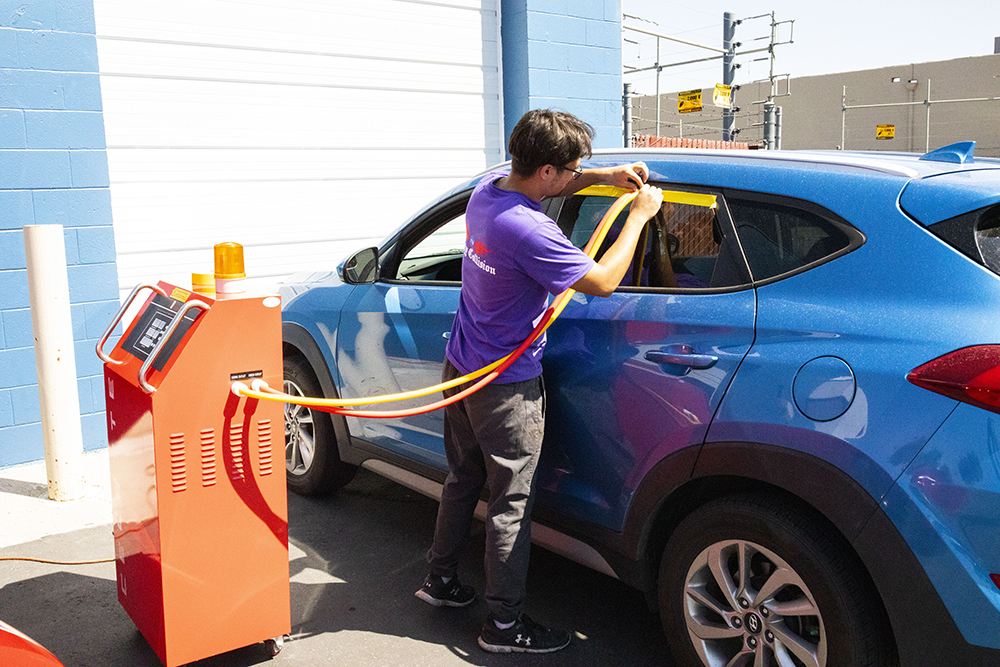 Your safety is our number one priority, and with COVID-19 not seeming to go anywhere, we are making sure that your vehicle is sterilized and purified to stop the spread. Our new top of the line sterilizer, TriOxyclean from Celette, removes odor, smoke, disease, purifies air, and solvent smell. This is how it works.
Step 1:
We lower the window glass about 15-20mm, from there we insert the ozone and anion hose inside your vehicle.
Step 2:
Once the hose is inside your vehicle, we seal off the open part of the window glass with 50mm masking tape.
Step 3:
Once sealed off tightly, we start the engine of your vehicle, and turn your air conditioning on with the recirculation mode. This way, the ozone and anion is being circulated throughout your entire vehicle.
Step 4:
Let the TriOxyclean do it's magic! We turn the power on and the Ozone timer will start automatically and run for five minutes. After that, the machine auto switches to Anion purification and that will run for another five minutes.
Step 5:
Once the TriOxyclean has run it's course. We wait an additional five minutes before removal the tape from the windows and removing the hoses.
We are very grateful to have this tool in our shop for the safety of our employees and our customers. Driving safe and having a properly running vehicle is our bread and butter, but we know the importance for ALL of us to do our part to stop the spread of COVID-19. This new tool of ours helps with that.
When having your vehicle worked on at Liberty Collision, you can rest assured knowing your vehicle is purified and protected. Don't let COVID-19 stop you from getting your vehicle repaired, sometimes somethings small could mean something bigger and you don't want to ignore that!
If you're in a collision, remember, you choose who repairs your vehicle.
Join Our Newsletter Today
Insider News & Vehicle Tips